180℃ Enameled Aluminum Wire
Available:
Providing thermal resistance up to 180°C,  Youjiu Enameled Aluminum Wire also possesses the features of good resistance against dipping varnishes, casting resins, solvents, and thermal shock performances.
Fields of Use: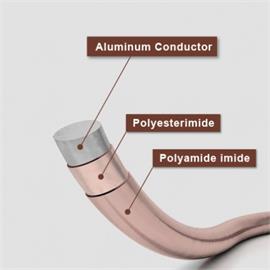 Refractory transformer
Hermetic machine
Motors of the power tool
Voltage regulators
Various types of magnet-coils
General-purpose electric motors
Advantage:
All product parameters are recorded with a quality control system at every stage of the production process and following by a barcode system until delivery.
Our products receive approval with production parameters of the quality control system according to standards of GB/T23312.7 2009, IEC60317-25, NEMA 35.
Thermal Class (°C)
Class C, 180 °C
Insulation | Base Coat
Polyester-imide
Insulation | Top Coat
Polyamide Imide
Insulation | Bong Coat
–
Production Range (MM) (MM)
0.20 – 4.00 mm
Certification I.E.C
IEC 60317 – 25
UL File No.
Class Temperature (°C)
180 °C
Heat Shock (°C)
≥200 °C
Cut Through Temperature (°C)
≥ 300 °C
Solderability (°C)
Non-solderability
Bonding Temperature (°C)
Not Applicable
Re-softening Temperature (°C)
Not Applicable
Normal Solvent Resistance
≥H
Resistance to humidity
Excellent
Resistance to Impregnants
Yes
Resistance to Refrigerants
Yes

Distinct Features

Better weight ratio compared to copper, price advantage, ease of winding

due to soft and flexible structure.