Enameled Copper Flat Wire
Description
Enameled rectangular Wire is coated by the various enamel films on the bare conductor in accordance with the customer's specifications. This important wire is used for winding coils for DC motors, transformers, generators, welding machines, and other applications.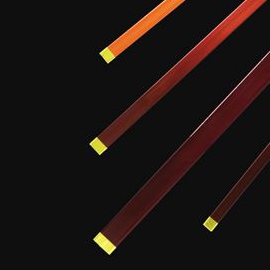 Size range
-Thickness a: 0.90mm—5.00mm
-Width b       : 2.00mm—16.00mm
-The suggested ratio of thickness and width: 1.5
Standards
IEC-60317-1-3
NEMA 36-A
NEMA 36-A
Specifications of rectangular enameled copper wire
Flat wire thickness:                      0.80-5.60mm
Flat wire width:                             2.00-16.00mm
Width/thickness ratio:                1.4<W/T<8.0
Standard:                                       IEC 60317-16,60317-16/28,MW36 60317-29 BS6811,
                                                         MW18 60317-18 ,MW20 60317-47
Thermal Index:                            155°C, 180°C, 200°C
Range of insulation thickness: IEC60317-0-2 G1,0.06-0.11mm G2,0.12-0.17mm
Advantages 
Excellent bending property
The high flexibility of the enamel
Good resistance to abrasion
High mechanical property
Higher thermal property
Good resistance to refrigerant and freon
Suitable for windings that are subjected to constant high temperature and mechanical stress
Good chemical resistance
Outstanding mechanical and chemical property
Application
1. 120 degrees flat enameled wire for oil-immersed transformer
2. 130,155,180 degrees flat enameled wire is widely used in all kinds of the magnet coil
3. 200 degree flat enameled wire works constantly in high temperature
It is mainly used for Transformer, Electric Motor, Generator, and other electric devices.